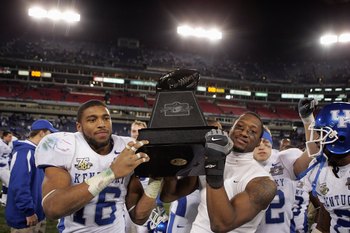 Last year, the thought of going to a bowl game this year would be considered, well, crazy.  And honestly, going to a bowl game should not be the expectation of the team even this year.  Let's face it, Stoops came in with the odds stacked against him.  Thus far, he's done better than probably anybody else could do, but it's hard to imagine that paying off with a bowl trip this year.
Still, it's not out of the realm of possibility.  Let's look at how the Cats could get there.
The season starts in Nashville on August 31 against Western Kentucky, and I'm not sure there could be a better situation to take on Western Kentucky than this year.  Kentucky will remember what happened last year and be extremely hungry to take care of business.  Combine that with a wild atmosphere down at LP Field and I think the Cats will take care of business in a big way.  It helps that WKU will be implementing a new system with players who don't exactly fit the mold of what Bobby Petrino would try to do.
One win.
The Cats follow that up with Miami Ohio at home for the first home game of the Stoops tenure.
Two wins.
Later in the season, the Cats have Alabama State coming to town.
Three wins.
Now the Cats enter conference play.   Yes I've skipped the Louisville game because I don't expect us to win that one.  Kentucky travels to Mississippi State for their annual Halloween game trip.  Mississippi State lost several of their best players to the NFL and will be going through a bit of a rebuilding year.  Defensively, Mississippi State will not be at the level they have been in the past.  Couple that with the fact that historically, the away team in this rivalry has a lot of success, and UK may be able to pull off the upset here.  Not to mention, this game comes off a bye week.
Four wins.
After the Alabama State game, Kentucky gets Missouri at home.  Missouri should be better than last year, but not much better.  This will be the first time Missouri will play in Commonwealth, and the crowd should be packed following back-to-back wins for Kentucky.
Five wins.
To close out the season, Kentucky welcomes in Tennessee.  Let's be real here, yes I know Kentucky has not had a lot of success against Tennessee, but Tennessee lost a ton of players from last year, and is in major rebuilding mode.  Butch Jones is having a lot of success on the recruiting trail so far for 2014, but those guys won't be here for another year.  The fact is, there's not a lot of separation between the two teams right now, and the game is at Commonwealth this year.
Six wins.
So there you have it.  A bowl game is definitely not out of the realm of possibility.  Add in a game against a reloading Vanderbilt team down in Nashville, and some sneaky upset possibilities with Louisville and Florida coming to down, and maybe there's a better chance at making late December reservations somewhere than we originally thought.
Either way, should be a fun season.
Go Big Blue!
Category: KSC Blog